Best Messenger Bags for Teens
We all know that teens care deeply about what they wear and how they look. Being stylish is very important to them, but being an individual is also essential. Parents want them to be prepared, and able to keep track of their books, assignments, and personal belongings. Messenger bags can be the perfect solution to both your needs!
With so many options available, the problem of staying organized and still looking good can both be solved with one stylish bag.
The classic bicycle-messenger style
A messenger bag is a type of sack that is worn over one shoulder with a long, wide strap that rests diagonally across the chest and back, with the bag resting on the lower back or hip on the opposite side. Messenger bags are widely used by bicycle messengers but have crossed over into an urban fashion accessory as well.
The design of this style of bag has been is use for centuries by ancient foot messengers, pony express riders, and military personnel as map cases and document pouches. The modern messenger bag in use today is said to be styled after the utility lineman bags from the 1950's that were used by workers to hold their tools as they climbed utility poles.
What will you be using your bag for?
There are a few things that should be considered when shopping for your messenger bag.
First, think about what you want to carry in your bag. Do you need space for books, sketch pads, or a laptop? Carefully reading the description of the bag, taking note of the interior dimensions, will help you determine if the bag is roomy enough to carry all your gear. Some bags are not intended for carrying electronics and will offer little protection for your tablet or laptop, so that's something to think about as well. However, you can always purchase a separate case or sleeve for keeping those types of devices safe while stowed in your messenger bag.
Another thing to consider is how the bag is constructed. Look for one that has a securely fastened shoulder strap, with a closure system that works for you. Some bags utilize hook & loop closures, which are the easiest and quickest way to open and close your bag, while others have buckles or other fasteners, which make access a little more involved, but can provide better security.
The materials used for messenger bags vary widely. Consider if you plan to be out in the elements with your bag for long periods, in which case you may want a bag that is made from a more water-repellant material or has an inner lining that provides protection from the rain. For most everyday uses though, just about any material will do, but do look for one that is made from a sturdy material, like canvas, leather, heavy-duty polyester and nylon.
Rugged and stylish
Canvas messenger bags have a rugged look, and can appear military inspired or slightly bohemian, making them a perfect style for both guys or girls. Most often found in solid colors, brown, olive green, and black are the most popular and widely available choices. Canvas bags are a great choice for teens that want a neutral accessory for lugging their gear in, but don't want to sacrifice style. They can dress up or down for work or school, although the traditional canvas bag style tends to have a more casual appearance overall. However, you can find "dressier" looks in canvas too, as you can see in a couple of the recommended bags below.
These bags have all been rated highly by those who purchased them. Detailed reviews are available on most of these styles and provide great information to aid in choosing the bag that's right for you.
Rothco
This roomy bag is a personal favorite in our house. It has a very unstructured look, but is so spacious inside, I can't believe all the stuff my daughter carries in there. Don't let the photo fool you, this bag is big.
NCITW
Military-inspired design that's both stylish and durable. Protective compartment keeps laptop safe and secure.
ROTHCO
Heavy-weight construction with an enormous main compartment as well as an inside zippered pouch and four outside pockets. Room for everything!
Versatile and roomy, this bag also has a grab handle in addition to an adjustable shoulder strap. Unique expandable main compartment too.
Create a style as unique as you are!
The possibilities with a Rickshaw Bag are absolutely endless because these bags are available with literally thousands of custom designs created by a community of artists and designers. Or you can upload your own design, photo, or artwork to make it a totally one-of-a-kind creation just for you. Each bag is custom made, by hand, in the USA using sustainable practices making it a combination of beautiful form, function, and a small ecological footprint.
And since each bag is custom-made the best thing of all is you won't see dozens of other people walking around with the same bag as you!
Besides the awesome ability to customize it:
It's water resistant, extra durable, and machine washable

Has a large main compartment and 2 roomy front pockets

Is handmade with a sustainability focus in San Francisco CA

Holds a 13" laptop and offers an optional protective sleeve

Is lightweight and forms to your body
The ultimate bag to express your individual style
There are thousands of designs available for you to choose from, the items below are just a tiny fraction of what is available by clicking here.
Or click on any of these samples to view more info and find more choices.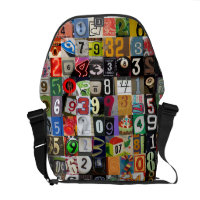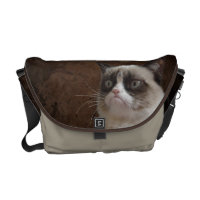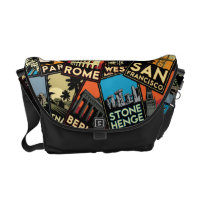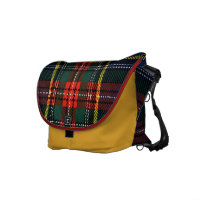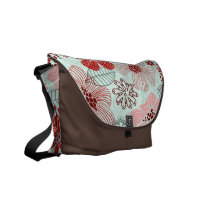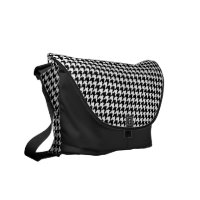 Messenger Bags made by a Messenger for Messengers
It all started in San Francisco back in 1989 when a bicycle messenger named Rob Honeycutt had a thought about how a messenger bag ought to be made, so he got himself a Singer sewing machine, some fabric, and got to work. His creation was quickly embraced by urban couriers and has since grown into one of the premier manufacturers of 'tough as hell' bags, meant to last forever.
What makes Timbuk2 bags great is that they are designed by someone who knows what you really need in a bag like this and has made it super functional. A waterproof liner, special True Fit cam buckle system, three zip front organizers and internal organizer as well, tether clips, color coded zippers to help you remember what goes where. They truly have thought of everything.
Timbuk2
The original, classic style of messenger bag, this one comes in multiple color combinations and patterns in sizes from XS to XL.
Timbuk2 Bags
The original, classic messenger bag, in solid black. Available in sizes from XS to XL.