Are You a New Daisy Girl Scout Leader Who Needs Help?
Planning Daisy Girl Scout activities can be overwhelming to a brand new leader. There are Daisy petals to earn, community service projects and field trips to plan, and even a few fun seasonal crafts to throw in the mix.
Where should a new Daisy Girl Scout leader start? How much planning to do largely depends on how often you meet. An optimum meeting time is every other week. This way you have time to plan in between meetings and you do not have the stress of figuring out what to do each week.
Here is a guide to help new Daisy Girl Scout leaders plan for the year.
Photo book image created by mommymommymommy's daughter
The Heart of the Daisy Girl Scout Program
There are ten Daisy petals to earn:
Daisy Blue Center -Promise
Light Blue-Honest & Fair
Yellow-Friendly & Helpful
Spring Green-Considerate & Caring
Red-Courageous & Strong
Orange-Responsible for What I Say and Do
Purple-Respect Myself & Others
Magenta-Respect Authority
Green-Use Resources Wisely
Rose-Make the World a Better Place
Violet-Be a Sister to Every Girl Scout
It makes sense to earn the blue Promise Center first, as that is the center of the flower. Plan an activity that shows the importance of making and keeping a promise.
Photo by mommymommymommy
You can earn Daisy petals in any order you wish. If you are short on time, you can earn multiple Daisy petals during one meeting.
Another Way to Have a Meeting
Going on a field trip is a fun way to have a troop meeting. If it is possible, plan the trip at the same time you usually hold your regularly scheduled meetings. Parents have already carved that specific time frame out of their schedules.
Contact your Service Unit Daisy Girl Scout coordinator. She can walk you through the steps to taking a field trip, show you where to get the necessary forms and what information she needs to give you a trip approval number.
Field trips are not only a fun change of pace, they can also help your troop earn Daisy petals. For example:
To earn the magenta Daisy petal, Respect Authority, you can visit the police station or the fire station.
To earn the yellow Daisy petal, Friendly and Helpful, you can visit an animal shelter and walk the dogs. You can also bring items the shelter is in need of.
To earn the spring green Daisy petal, Considerate and Caring, you can visit a senior citizen complex and play Bingo, sing songs, or do arts and crafts with the residents.
To
earn the orange Daisy petal
, Respect Myself and Others, you can see if a karate dojo or dance studio is willing to let your troop take a free lesson. This is getting exercise and that is one way to respect your body.
The Girl Scouts of America have very strict rules about taking field trips. Check your Council website for the Safety Checkpoints guide and information about the requirements for each kind of trip.
Kids Love to Help Others!
Even the youngest Daisy Girl Scout can participate in a community service project to help make the world a better place. Young children may be egocentric, but they also are compassionate. Ask them how they want to help and who they want to help and plan a project around that idea. The troop can earn the rose Daisy petal and show the girls that little people can make a big difference.
Photo by mommymommymommy
The Kid's Guide to Service Projects: Over 500 Service Ideas for Young People Who Want to Make a Difference
from eCampus
Sometimes you want to be a bit more creative with your community service projects. After all, Daisy Girl Scouts are young and while they may have big ideas on how they want to help make the world a better place, it is you as the leader that has to take those ideas and put them into action.
This book has many inspiring ideas that can be adapted for younger girls who wish to make the community they live in a better one for all of it's citizens.
My New Daisy Leader Blog
This January I launched a brand new website just for Daisy Girl Scout leaders. You can read it here.
Sometimes a meeting can be centered just on doing a fun craft. You can buy supplies for the craft, or if you want to earn a Daisy petal while crafting, then create a project using recycled materials. This helps the girls earn the green Daisy petal, Use Resources Wisely.
Another fun Girl Scout craft that will not take up a lot of time are Girl Scout Swaps. These have been a scouting tradition for over fifty years. Girls exchange little handmade crafts with girls from other troops in an effort to promote sisterhood. They are keepsakes from their years in scouting.
These are the basic Daisy Girl Scout activities to help new leaders get their first year off on the right foot.
Photo by mommymommymommy
As the new leader, you have a limited budget for craft items. Here are some cheap ones that can be used for many different activities over the two years you are a Daisy Scout leader.
Pony Beads - 1 lb.
from Discount School Supplies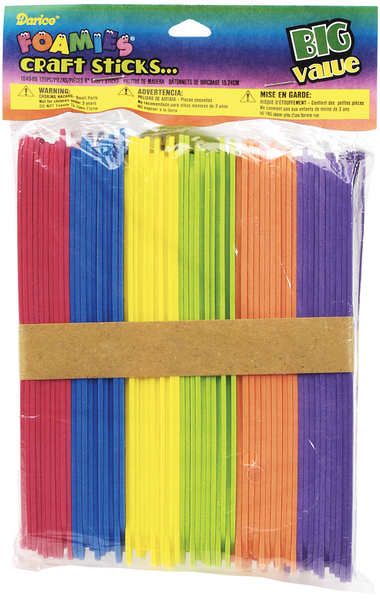 Foam Craft Sticks, 125-Pack
from Dollar Days
My Girl Scout Leader blog has been around since January 2010. I share ideas for leaders of all levels, and Daisy leaders will find easy and inexpensive craft ideas to use.
mommymommymommy is a participant in a number of affiliate programs, including the Amazon Services LLC Associates Program, Commission Juncition, LinkShare, and Allposters.com affiliate advertising programs designed to provide a means for sites and writers to earn advertising fees by advertising and linking to amazon.com and other online affiliates.