Turn your plain and boring popcorn into delicious flavored popcorn. By adding a few simple ingredients and spices you can turn ordinary popcorn into tasty flavored popcorn that is sure to perk up your taste buds. Here are some popcorn flavor recipes for making, cinnamon, cheese, tex-mex, pizza, caramel and red hot popcorn. Try some of these delicious recipes for family movie night or for serving at your next party. Popcorn is a great anytime treat.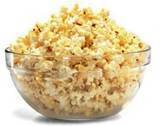 Easy recipes for turning your ordinary popcorn into a pop of tasty flavored popcorn.
Cheese Popcorn:

Melt 1 1/2 tablespoons of butter or margarine. Add 1/4 cup grated Parmesan cheese. Pour over popcorn and toss.

Tex-Mex Popcorn:

Melt butter and add a pinch of chili powder or a small amount of taco seasoning. Pour over popcorn and toss.

Pizza Popcorn:

Add a pinch of oregano, basil and parsley to melted butter. Pour over popcorn and toss.

Red-Hot Popcorn:

Add a dash or two to melted butter. Pour over popcorn and toss.

Cinnamon Popcorn:

Mix 1/2 cup sugar with 1 tablespoon of cinnamon. Sprinkle over popcorn.
Fun circus style popcorn cart for home movies and parties.
Caramel Flavored Popcorn Balls
Heat caramel sauce or Kraft caramels in a sauce pan over medium heat.
Pour sauce over popcorn and toss until the popcorn is well coated.
Roll mixture in balls.
Macadamia Caramel Flavored Popcorn Recipe
Ingredients
8 cups popped corn

1/2 cup packed brown sugar

1/4 cup butter or margarine (1/2 stick)

2 tablespoons corn syrup

1/4 teaspoon salt

1 tablespoons molasses

1/4 teaspoon baking soda

2 cups macadamia nuts
Directions
Combine the brown sugar, butter, corn syrup, salt, and molasses.in a large sauce pan; bring to

then lower heat and simmer for 3 minutes.

Stir in the baking soda; s

tir until mixture is

creamy

.

Pour mixture over the popcorn and toss with the macadamia nuts.

Spread on a buttered jellyroll pan and bake at 250 degrees for 30 minutes; stir every 10 minutes.
Emgee
This tabletop vintage style popcorn machine pops up to 1 gallon of fresh movie theater style popcorn in just minutes.
West Bend
A space saving popcorn popper that pops 4 quarts of popcorn in just 3 minutes! It uses hot air instead of oil, so it's less fattening and almost no kernel goes unpopped.
Wabash Valley Farms
This stovetop popcorn popper includes 3 popcorn kits. It has a removable lid for convenient storage, and the pan easily wipes clean with a paper towel.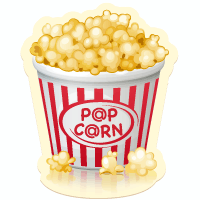 Air-popped popcorn is naturally high in dietary fiber and low in calories and fat.
The world's largest popcorn ball weighed 3,415 pounds.
Some companies use popcorn as a packing material because it is biodegradable.
Popcorn machines were invented in the late 19th century.
Popcorn was discovered by Native Americans.
The oldest form of popcorn dates back to 3600 BC.
Warning:
According to the American Academy of Pedicatrics, popcorn should not be served to children under the age of 4 because of the risk of choking.
More delicious dessert recipes.....
Chocolate makes everything better, even bacon. Oddly, bacon and chocolate go perfect together. When combined they make a super delicious salty chocola... Read more
Chocolate covered bananas are one of my favorite treats. These treats are so quick and easy to make, and fun to decorate with sprinkles, nuts and driz... Read more
This is an easy dessert recipe for chocolate chip cheesecake. This decadent dessert combines the best of both chocolate and cheesecake.  It... Read more
S'mores are a traditional campfire treat but you can easily make that at home too. You only need graham crackers, chocolate and marshmallows to m... Read more
This is a very easy recipe for Pineapple Upside Down Cake. This cake is a pineapple lovers delight. Pineapple Upside Down Cake sounds like a hard cake... Read more
Gingerbread cookies are a traditional spice type holiday cookie that you can decorate and eat or decorate and hang from the Christmas tree. Gingerbrea... Read more
Everything is better with chocolate, especially banana bread. Here is a recipe for a variation of traditional banana bread. This rec... Read more
Deep fried Twinkies are Twinkies coated in batter and then deep fried. The batter gives it a nice crispy shell. The inside is soft, moist and warm. De... Read more
Peanut butter cookie cups are one of the easiest dessert to make. These miniature cookies are mouthwatering! Peanut butter cookie cups are ba... Read more