Monster High Costume Doll Line
This set of Monster High dolls is new for 2012 and were made to go along with the new DVD titled Ghouls Rule!
The background for the movie is that the girls are going to celebrate Halloween this year instead of staying in like they usually do. They've decided they want to dress in over-the-top costumes highlighting their famous monster heritage. These dolls are wearing those costumes.
I love, LOVE, their costumes and styling. I think they are the most elaborate Monster High line to date. It looks like there will be 4 dolls. Frankie Stein, Draculaura, Cleo de Nile, and Clawdeen Wolf.
Update! Abbey Bominable is the 5th doll.
I've seen matching Halloween costumes for girls as well from Target.
You can order an assortment of six Monster High Costume Dolls
. Keep four for yourself and have two to give away as gifts! Or keep the extra two in their package so their value will increase in the future.
Ghouls Rule Costume Doll Frankie Stein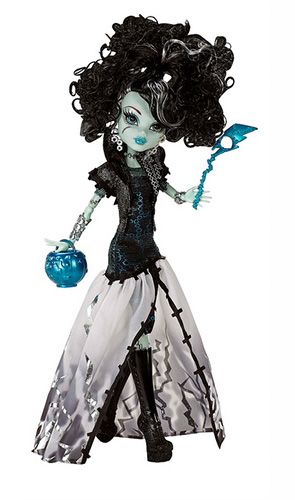 I think this is my favorite of the bunch.
Frankie is wearing a long black and white dress with metallic blue & silver detailing and trimmed with stitches, matching cropped leggings, a black short sleeve jacket, and black knee-high boots. Her black & white hair is pulled up showing off bolt earrings, and she has multiple bolt bracelets. Frankie's makeup includes silver eyeshadow and blue lipstick.
She comes with a metallic blue lightning bold masquerade style mask that covers one eye, a metallic blue candy bucket, a green and silver "bobbing for bolts" pot, and a blue hair brush.
Who knew the daughter of Frankenstein would be so stylish?
Ghouls Rule Costume Doll Draculaura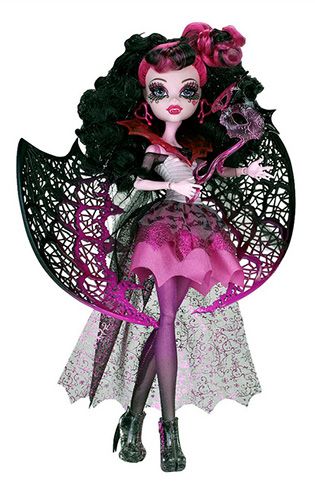 The daughter of Dracula looks fabulous.
Draculaura is wearing a short white, black, and pink dress with a sheer, shimmery train and bat wing collar, tights, and black ankle boots. And, oh does the girl have wings! The front of her pink & black hair is pulled back in a side pony and the rest is down. Draculaura's only jewelry are pink drip heart shaped earrings. Her eye makeup is painted like an intricate spider web in black over pink eyeshadow and she's got pink lips to match.
She comes with a translucent pink masquerade style mask that covers both of her eyes, a metallic pink candy bucket, a "pin the bow on the Skullette" game, and a pink hair brush.
Ghouls Rule Costume Doll Cleo de Nile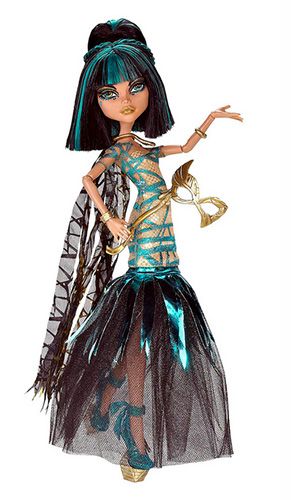 Cleo, the daughter of the Mummy, is stunning.
She's wearing a gold, teal and black gown, coordinating scarf, gold snake necklace, gold bangle bracelets, and teal and gold platform shoes. Her short black hair has teal streaks, and blunt bangs. Cleo's Egyptian styled eye makeup includes black eyeliner, teal eyeliner, and glittery gold eyeshadow. Her lipstick is also glittery gold.
She comes with a gold masquerade style mask that covers both of her eyes, a metallic teal candy bucket, a punch bowl with ladle and cup, and a teal hair brush.
I think Cleo is channeling a young Liz Taylor.
Ghouls Rule Costume Doll Clawdeen Wolf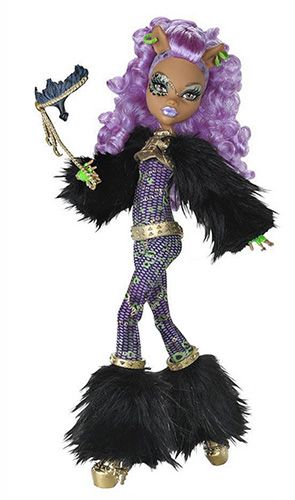 I can almost hear Clawdeen howl. She looks fierce.
This daughter of the Werewolf is wearing a purple, black, gold, and green jumpsuit with gold lined fur pieces on her arms and calves. She has a gold belt, green fingerless gloves, 3 green hoop earrings, and gold platform shoes. Her hair is a bright light purple in curls. Her makeup is really beautiful up close. Hard to describe, but it looks like a beige eyeshadow with black and gold accents. He lipstick is a shimmery purple.
Clawdeen comes with a gold and black mask that sits above her eyes and covers her nose. It reminds me of a gladiator mask, except wolf-like, and feminine. She also comes with a green candy bucket, a box of ghoul treats, and a purple hair brush.
She's had brown, green, and now purple hair, straight, wavy, and in tight curls. There isn't a look Clawdeen can't pull off. She's one versatile monster.
NEW!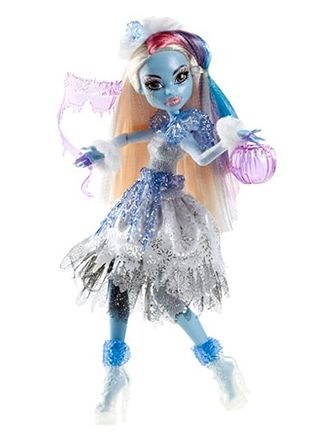 Monster High
A Walmart exclusive.
Abbey wears an ice themed outfit and has a mask, pumpkin basket, Halloween treat, stand, and brush.
The picture above, a screen shot from this video of the 2012 Toy Fair, shows the dolls with their masks over their face. You can also see the DVD case off to the left. There's a better image of the case cover below. I'm not sure when the video will be in stores. I think it will be sometime between July and October. I'll post it here as soon as I see it for sale.
I can hardly keep up with all of the new dolls from Monster High. While I was doing my normal internet searching I came across a pic I hadn't see... Read more
The freaky fab kids of Monster High seem to be getting more and more popular with every episode.If your tween is asking for a Monster High Birthday pa... Read more
As I'm writing this, there are no officially licensed Monster High cake pans, cupcake wrappers, or any cake related decorations (with the excepti... Read more
Monster High: Scaris: City of Frights is an upcoming TV special. With it comes a new doll line and playset assortment.The ghouls of Monster High are t... Read more
Monster High 13 Wishes will be the third CG animated, feature-length, Monster High film to come out on DVD. It will also be a TV special airing someti... Read more