Do you have huge dreams inside of you that want to come out? Have you always wanted to do something but have not known how to get started? Are you afraid you will not succeed, or, have you tried to achieve a goal and then fell down on your face? Do you feel you are in a slump and do not know how to get out of it?
Most of us (if not all) have felt this way at least once in our lives. It is easy to sit and wallow in our frustrations, but why not get up and give it another try? Success is not easy no matter if it is a small or large goal. It takes dedication and hard work, but that does not mean it is impossible! Sometimes the biggest and hardest step is changing to a positive attitude and simply starting our goals and dreams.
Some of you may be thinking - "That's fine and all, but I just do not have the strength to pick myself up and go." I understand - I really do - because I have hit "rock bottom" with some aspects of life, but I have hope to dig out of the hole. Notice my Zujava bio - "This butterfly has come out of her chrysalis and is ready to fly with the eagles!". I felt that just when I was starting to crawl around and make progress as a caterpillar that I was dying in a cocoon. Well, my new wings are starting to dry and I am ready to start flying! I hope the following sayings will be as motivational to you as they are to me.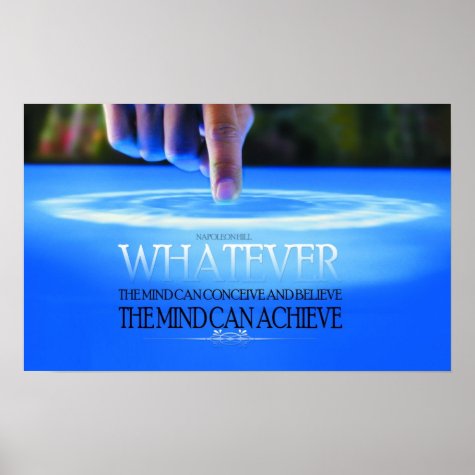 The Mind Can Conceive Motivational Poster by LifeArtHouse

"Don't wait until everything is just right. It will never be perfect. There will always be challenges, obstacles and less than perfect conditions. So what. Get started now. With each step you take, you will grow stronger and stronger, more and more skilled, more and more self confident, and more and more successful." - Mark Victor Hansen

"He is able who thinks he is able." - Buddha

Personal Power Poster by tpeblog

"By failing to prepare, you are preparing to fail. " - Benjamin Franklin

"Just don't give up on trying to do what you really want to do. Where there is love and inspiration, I don't think you can go wrong." - Ella Fitzgerald
"Believe in yourself! Have faith in your abilities! Without a humble but reasonable confidence in your own powers you cannot be successful or happy. " - Norman Vincent Peale

"Always continue the climb. It is possible for you to do whatever you choose, if you first get to know who you are and are willing to work with a power that is greater than ourselves to do it. " - Ella Wheeler Wilcox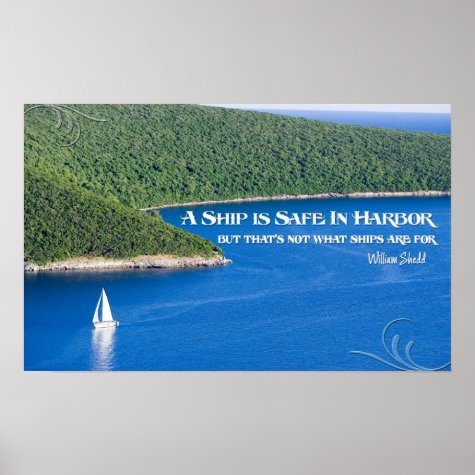 A Ship is Safe In Harbor Motivational Poster by LifeArtHouse
"Always do your best. What you plant now, you will harvest later. " - Og Mandino

"Act as if what you do makes a difference. It does." - William James
"Shoot for the moon. Even if you miss, you'll land on the stars." - Brian Littrell